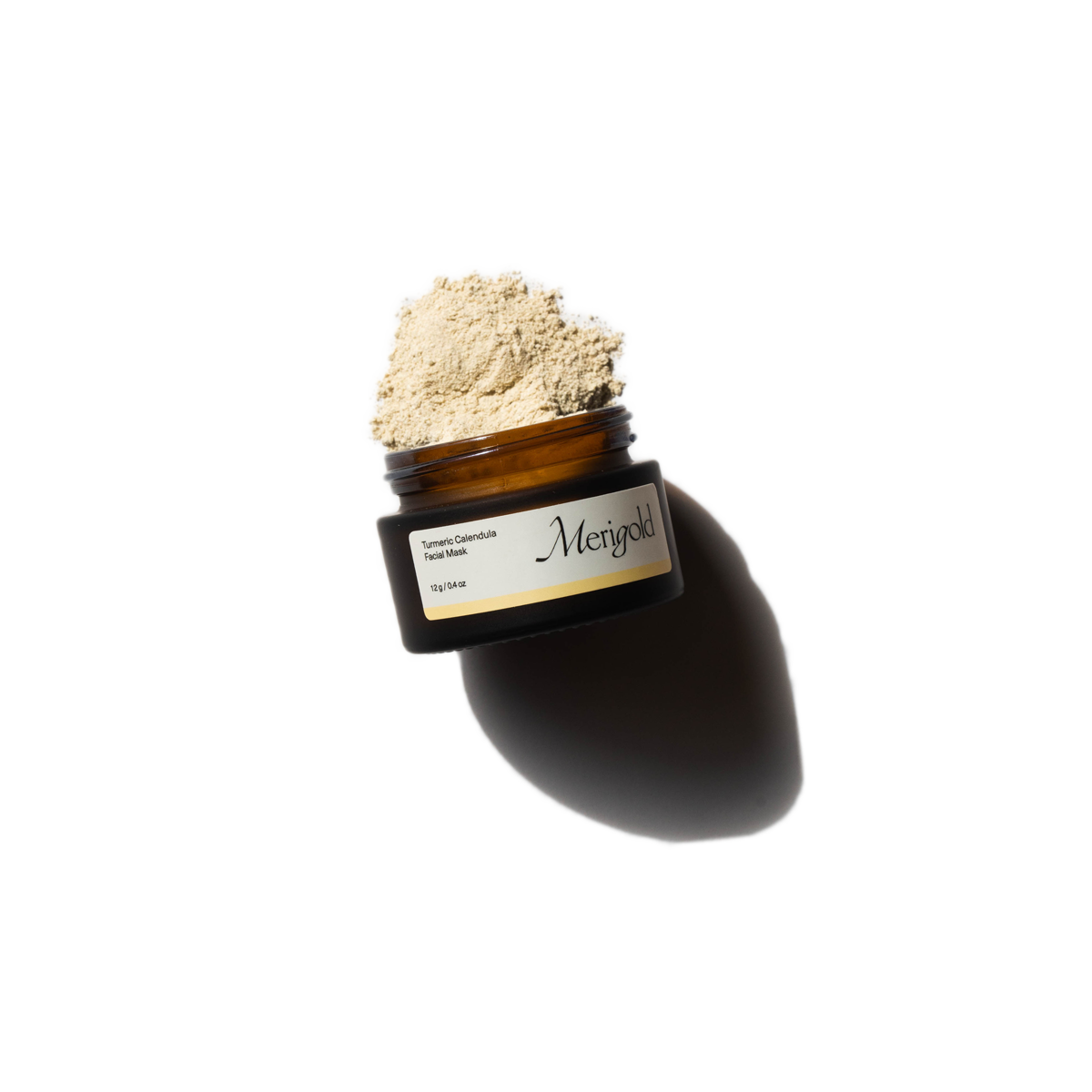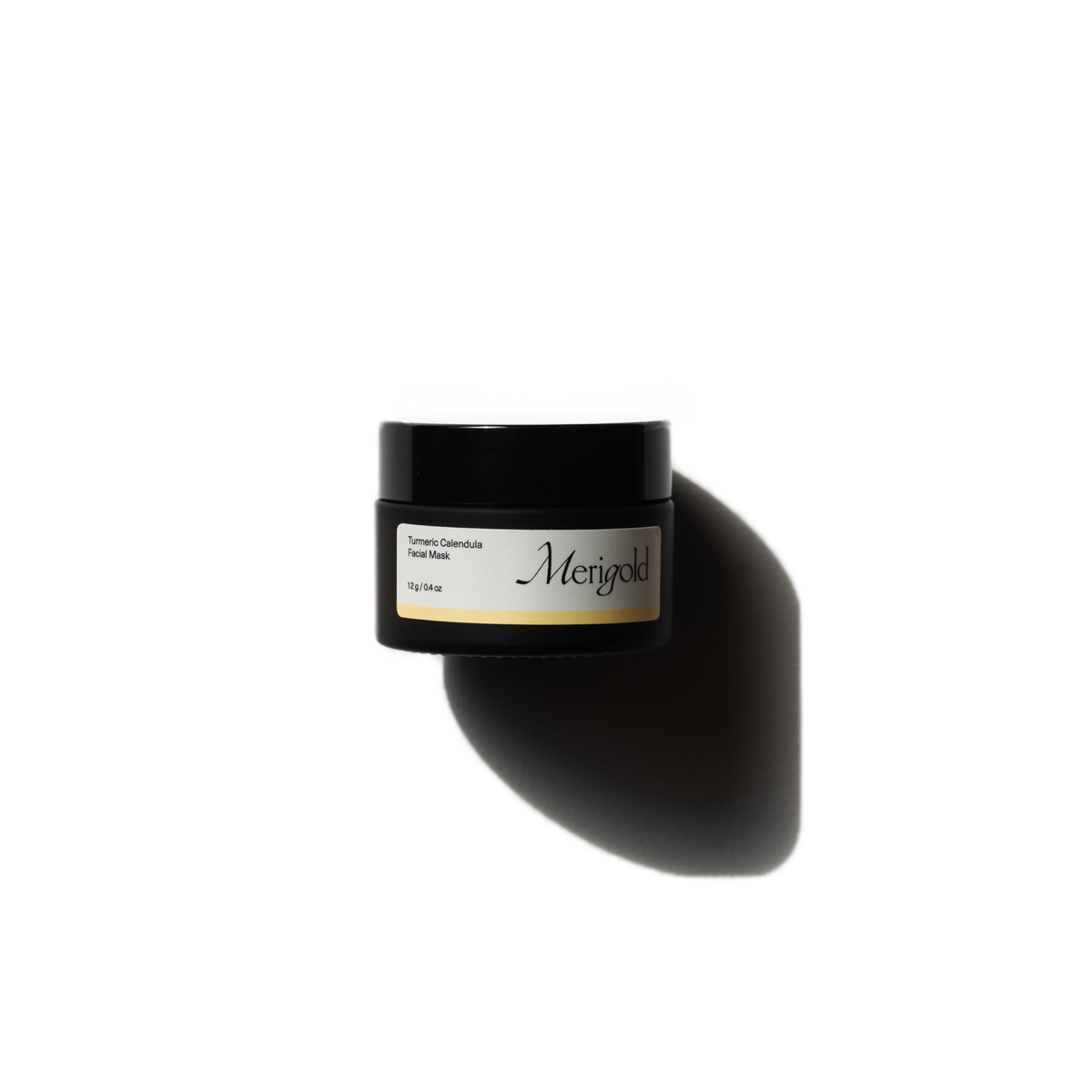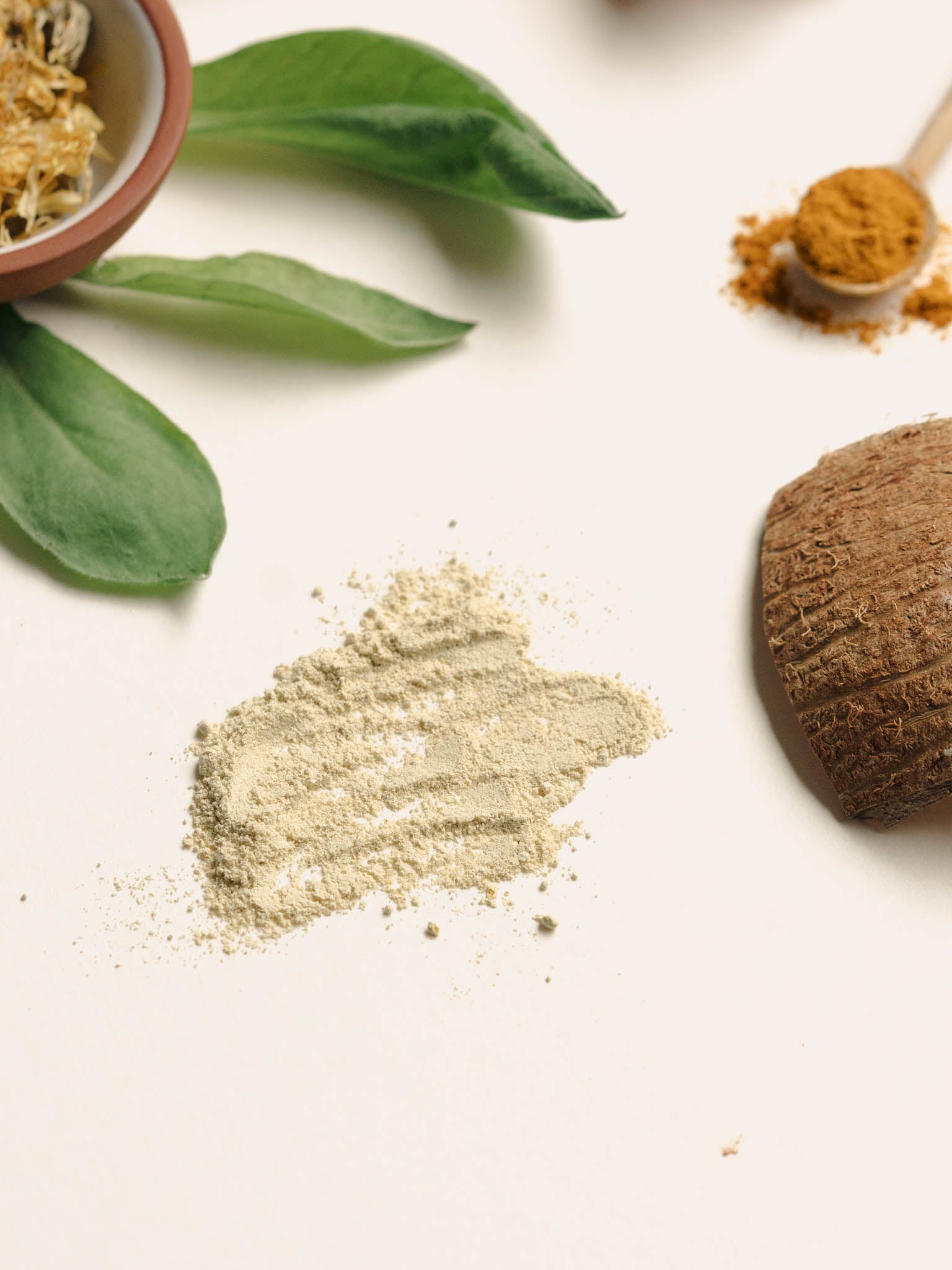 All Natural and Organic Ingredients
Contains 3-5 Masks Per Jar
Description
How to Use
Ingredients
Turmeric and Calendula come together in this powerful face mask to heal, calm, and balance your skin. Turmeric is packed with antioxidants that help repair damage caused by pollution and other environmental stressors, while calendula has anti-inflammatory properties that help soothe and calm irritated skin.
This mask is perfect for anyone who wants to restore their skin's natural radiance and protect it from damage. Wear it whenever you need a pick-me-up or want to prep your skin for a big event. Your skin will thank you for the restorative power of our Turmeric Calendula mask!
Mix 1 tsp mask powder with 1 tsp of water for a yogurt-like consistency. Apply a thin, even layer to face and wear for 10-15 minutes, this is your time to pause—meditate, read, relax, or simply be still. There is no need to do or accomplish anything at this time. Rinse using lukewarm-cool water. After, apply your favorite facial oil and/or moisturizer. Apply weekly for radiant skin.
Rice (Oryza sativa) *
Diatomaceous Earth **
Marshmallow (Althaea officinalis) *
Coconut (Cocos nucifera) *
Oat (Avena sativa) *
Pomegranate (Punica granatum) *
Kaolin **
Calendula (Calendula officinalis) *
Sea Buckthorn (Hippophae rhamnoides) *
Honey (Honey & Maltodextrin) **
Turmeric (Curcuma longa) *
Hyaluronic Acid (Sodium hyaluronate) **
Sweet Orange Oil (Citrus sinensis) *

* Certified Organic
** Naturally Occurring
Pairs Great With:
Nourishment
Calendula
Packed with antioxidants and anti-inflammatory properties that help to soothe and heal the skin. Calendula is a natural remedy that repairs damage done to your skin from environmental factors and everyday wear. It also boosts cell regeneration for better-looking gorgeous collagen!
Turmeric
For those who have acne-prone skin, the turmeric extract in this product will be a lifesaver. It's the antioxidant-rich and antibacterial property that balances oils on your face while reducing redness for a more pure complexion!
Sea Buckthorn
A plant that helps to brighten skin and even out your natural pigmentation. With its super-powered vitamin C content it protects from the free radicals in our environment, and also leaves us looking healthier with each application!
Learn More
Organic vs. Natural
What's the difference between Natural and Organic skincare? You may have heard them both referred to as such, but these terms actually mean very different things. Learn More!
Patch Test
Since everyone's skin is unique, it is recommended to try any new products using the patch test method prior to applying them on larger areas of your face. While we do formulate and source all ingredients naturally and toxin free, we still encourage you to apply a thin layer evenly to your forearm.

Everyone's skin reacts differently and this simple patch test can help detect any underlying allergies or reactions. We use whole ingredients and are transparent in letting you know what you are applying to your skin, but if you have a reaction, you should discontinue use for your own comfort.
Wellbeing
This product has not been evaluated by the FDA. Merigold products are not intended to treat, diagnose, cure, or prevent any disease. If you're pregnant, breastfeeding, or on any medications, please consult with a qualified health professional before using. It is recommended to perform an allergy patch test prior to using any products to mitigate any type of skin reaction. Discontinue if a reaction occurs.
Invite
Purification
By gently purifying your skin, remove impurities that can clog pores and lead to breakouts. Cleansing helps to stimulate blood flow, which gives skin a natural glow. With frequent cleansing, you will notice a dramatic improvement in the appearance of your skin. (And get compliments on how clear and radiant your skin is looking!)
Experience
Cleansing
Exfoliating is key to having healthy and happy skin! By removing the buildup of dead skin cells, your skin will feel softer and smoother. Using real ingredients cleanses deeply but doesn't strip your skin. As a result, your skin will be better able to absorb moisture and stay hydrated.