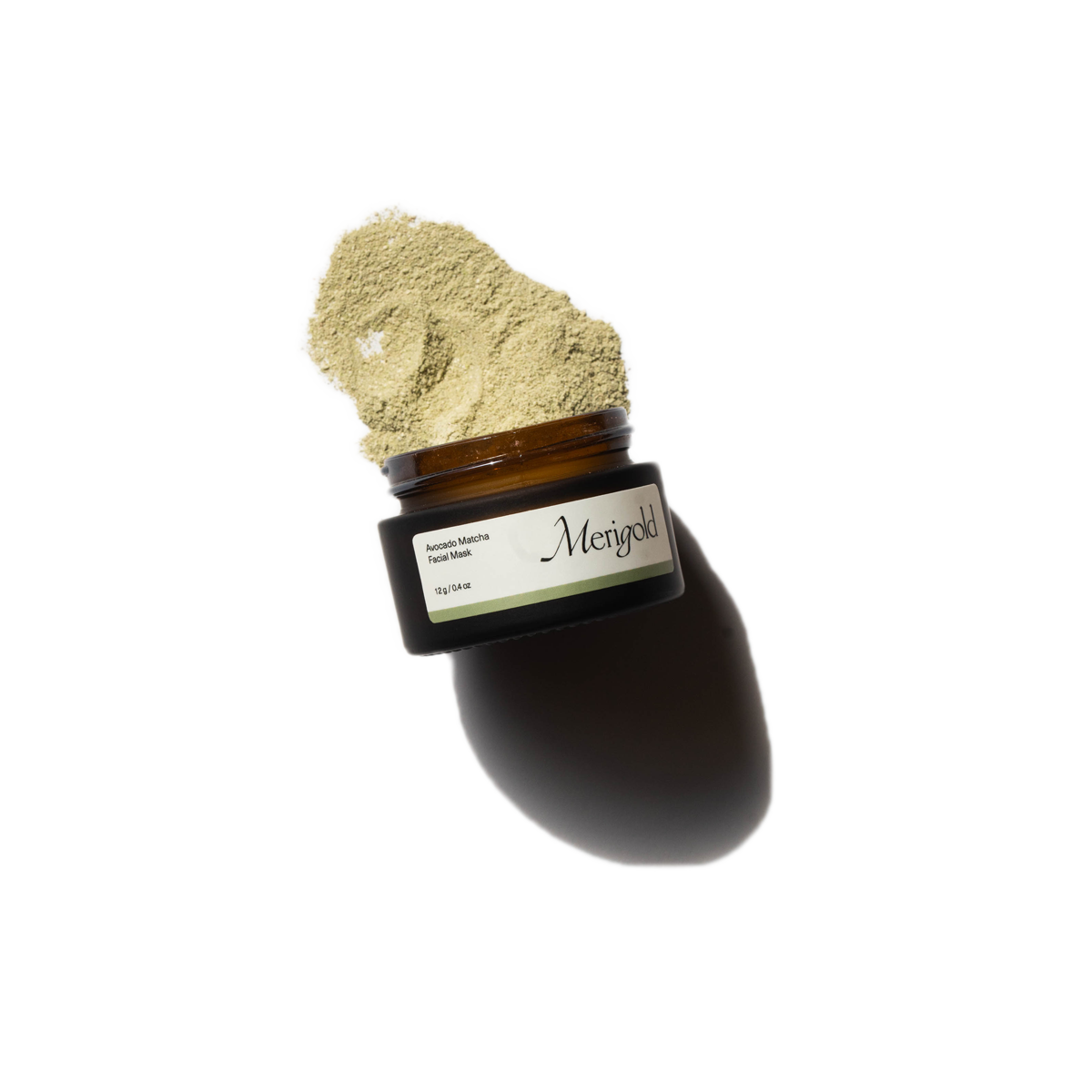 All Natural and Organic Ingredients
Contains 3-5 Masks Per Jar
Description
How to Use
Ingredients
Our Avocado Matcha Facial Mask has an earthy texture and the smell of this mask reminds us that just like nature, grounding down prepares us for renewal and rejuvenation in the months to come.
This facial mask is one of our most popular because it contains ingredients like avocado, matcha, and burdock root. Each of these ingredients has benefits that help to hydrate and nourish your skin.
Avocado is full of vitamins A, E, and K, which are all great for your skin. They help to keep your skin hydrated and can even reduce the appearance of fine lines and wrinkles. Matcha is a powerful antioxidant that helps to protect your skin from damage caused by free radicals. Together, these ingredients make our Avocado Matcha Facial Mask an excellent choice for people looking for a way to give their skin a little extra love.

Mix 1 tsp mask powder with 1 tsp of water for a yogurt-like consistency. Apply a thin, even layer to face and wear for 10-15 minutes, this is your time to pause—meditate, read, relax, or simply be still. There is no need to do or accomplish anything at this time. Rinse using lukewarm-cool water. After, apply your favorite facial oil and/or moisturizer. Apply weekly for radiant skin.
Avocado (Persea gratissima)*
Oat (Avena Sativa)*
Dead Sea Clay **
Kaolin **
Alfalfa (Medicago sativa) *
Burdock (Arctium lappa)*
Marshmallow (Althaea officinalis)*
Matcha (Camellia sinensis)*
Lavander (Lavandula x intermedia)*
Calendula (Calendula officinalis)*
Hyaluronic Acid (Sodium hyaluronate) **

* Certified Organic
** Naturally Occurring
Pairs Great With:
Nourishment
Avocado
Experience deep hydration from the inside out with essential fatty acids and Vitamins A and E. Cleansing properties leave you feeling fresh.
Matcha
An earthy green tea powder packed with polyphenols, a powerful antioxidant known for its regenerative benefits that helps rejuvenate the skin and promote elasticity. High in vitamin K, which increases blood flow.
Burdock Root
A gentle herb known for its cleansing and smoothing properties.
Learn More
Organic vs. Natural
What's the difference between Natural and Organic skincare? You may have heard them both referred to as such, but these terms actually mean very different things. Learn More!
Patch Test
Since everyone's skin is unique, it is recommended to try any new products using the patch test method prior to applying them on larger areas of your face. While we do formulate and source all ingredients naturally and toxin free, we still encourage you to apply a thin layer evenly to your forearm.

Everyone's skin reacts differently and this simple patch test can help detect any underlying allergies or reactions. We use whole ingredients and are transparent in letting you know what you are applying to your skin, but if you have a reaction, you should discontinue use for your own comfort.
Wellbeing
This product has not been evaluated by the FDA. Merigold products are not intended to treat, diagnose, cure, or prevent any disease. If you're pregnant, breastfeeding, or on any medications, please consult with a qualified health professional before using. It is recommended to perform an allergy patch test prior to using any products to mitigate any type of skin reaction. Discontinue if a reaction occurs.
Experience
Hydration
Leave your skin feeling soft, hydrated, and looking healthier than ever before. With regular use, you'll not only feel more confident in your skin but also provide a boost to help you age gracefully.
Encounter
Refreshment
The refreshing and moisturizing properties of this mask are designed to help improve the look and feel of your skin.