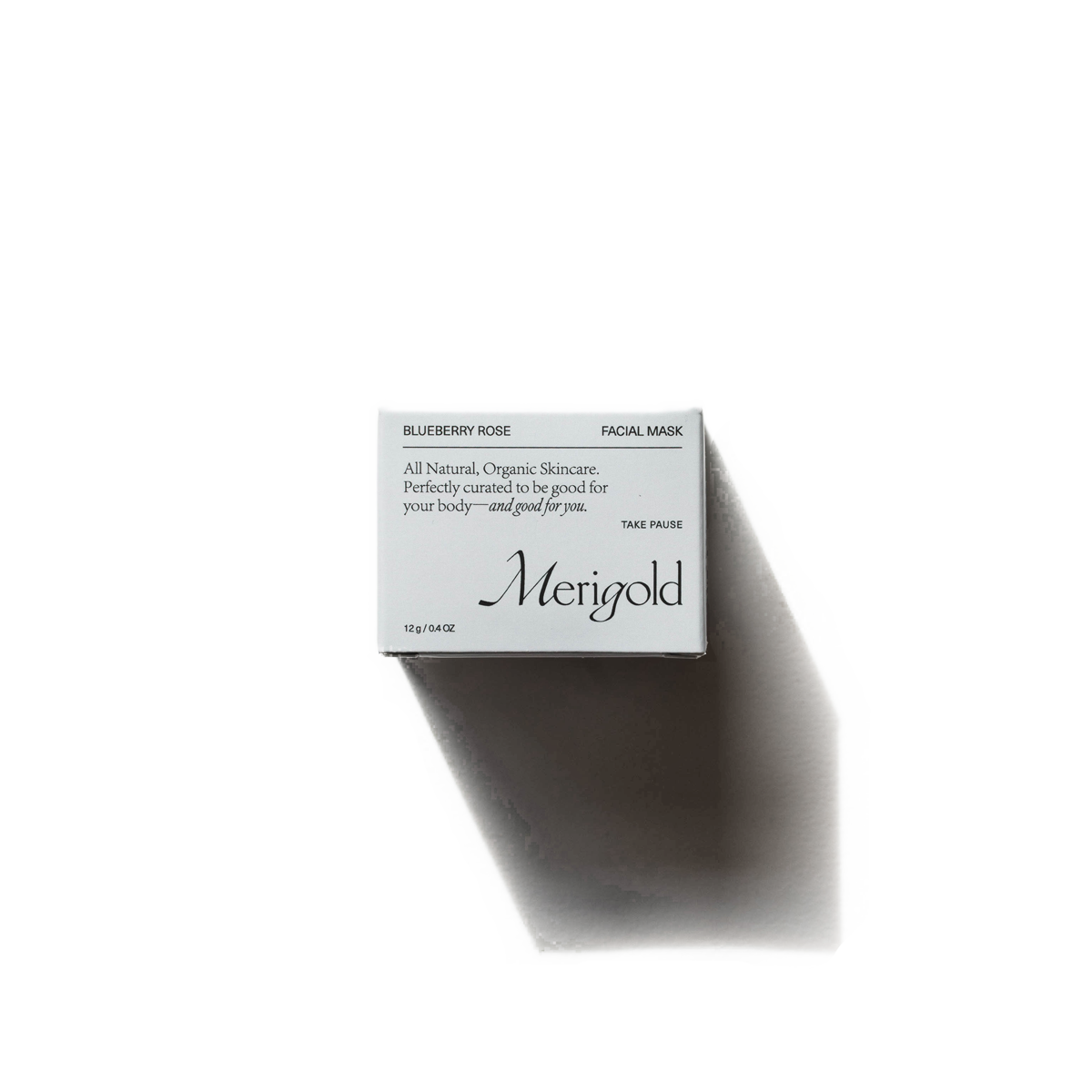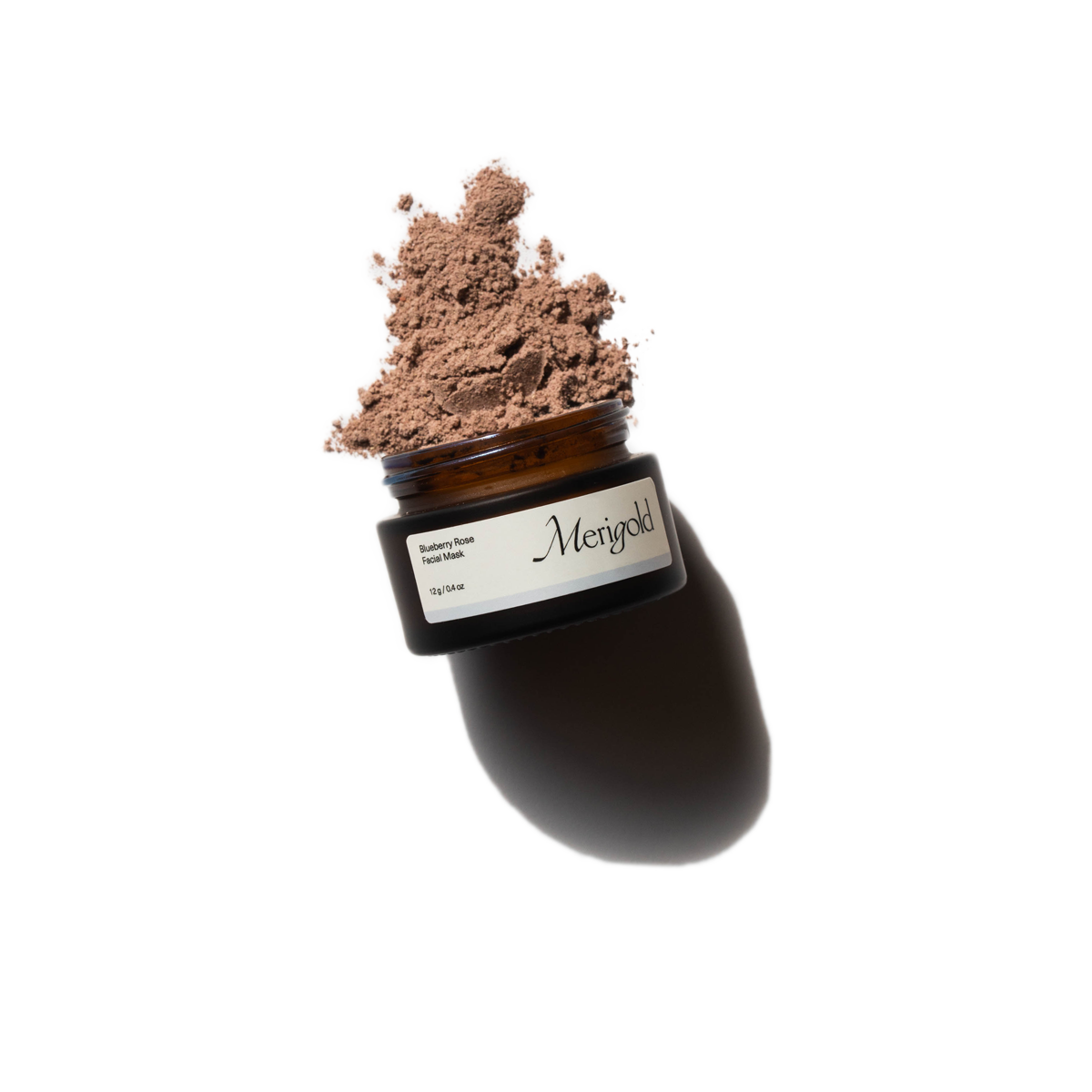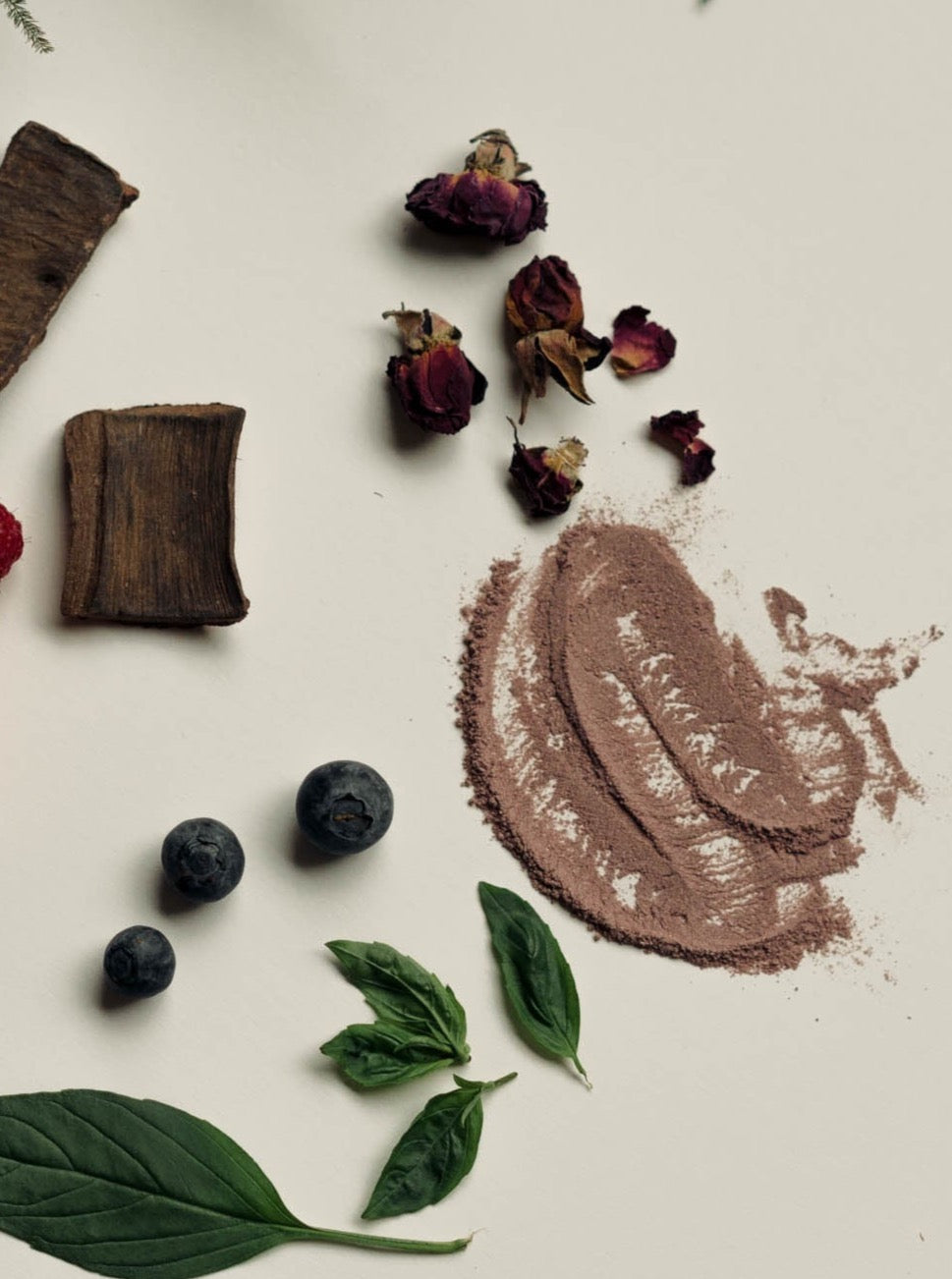 All Natural and Organic Ingredients
Contains 3-5 Masks Per Jar
Description
How to Use
Ingredients
The Blueberry Rose Face Mask is the perfect way to show your skin some love. Formulated with two of the most nutrient-dense and light-loving plants, this mask is designed to brighten and embolden your complexion. The protective and soothing properties of blueberries and roses work together to leave your skin feeling soft, smooth, and healthy. So go ahead and pamper yourself with this luxurious mask—your skin will thank you for it!

Mix 1 tsp mask powder with 1 tsp of water for a yogurt-like consistency. Apply a thin, even layer to face and wear for 10-15 minutes, this is your time to pause—meditate, read, relax, or simply be still. There is no need to do or accomplish anything at this time. Rinse using lukewarm-cool water. After, apply your favorite facial oil and/or moisturizer. Apply weekly for radiant skin.
Tapioca Starch(Manihot esculenta)*
Blackberry (Rubus fruticosus)*
Blueberry (Vaccinium angustifolium) *
Marshmallow (Althaea officinalis) *
Raspberry (Rubus idaeus) *
Tulsi (Ocimum sanctum) *
Rose (Rosa centifolia) *
Arjuna Bark (Terminalia arjuna)*
Vitamin B3 (Niacinamide) **
Hyaluronic Acid (Sodium hyaluronate) **

* Certified Organic
** Naturally Occurring
Pairs Great With:
Nourishment
Blueberry
Stimulates the creation of collagen and elastin, rich in antioxidants and vitamins to help minimize sunspots, balance pigmentation, and brighten.
Rose
Mild astringency and toning properties, soothing enough for sensitive and mature skin.
Tulsi
Provides relief and restoration for skin under stress from both internal sources like elevated cortisol and external sources like UV light.
Learn More
Organic vs. Natural
What's the difference between Natural and Organic skincare? You may have heard them both referred to as such, but these terms actually mean very different things. Learn More!
Patch Test
Since everyone's skin is unique, it is recommended to try any new products using the patch test method prior to applying them on larger areas of your face. While we do formulate and source all ingredients naturally and toxin free, we still encourage you to apply a thin layer evenly to your forearm.

Everyone's skin reacts differently and this simple patch test can help detect any underlying allergies or reactions. We use whole ingredients and are transparent in letting you know what you are applying to your skin, but if you have a reaction, you should discontinue use for your own comfort.
Wellbeing
This product has not been evaluated by the FDA. Merigold products are not intended to treat, diagnose, cure, or prevent any disease. If you're pregnant, breastfeeding, or on any medications, please consult with a qualified health professional before using. It is recommended to perform an allergy patch test prior to using any products to mitigate any type of skin reaction. Discontinue if a reaction occurs.
Witness
Brightening
Brighten your skin and give it a more radiant appearance. While also helping to protect your skin against further damage. Feel and look more than radiant.
Welcome
Brilliance
Revive your skin and get a healthy, natural glow that is the result of clean, nourishing ingredients. Enjoy your skin looking its best all year long.