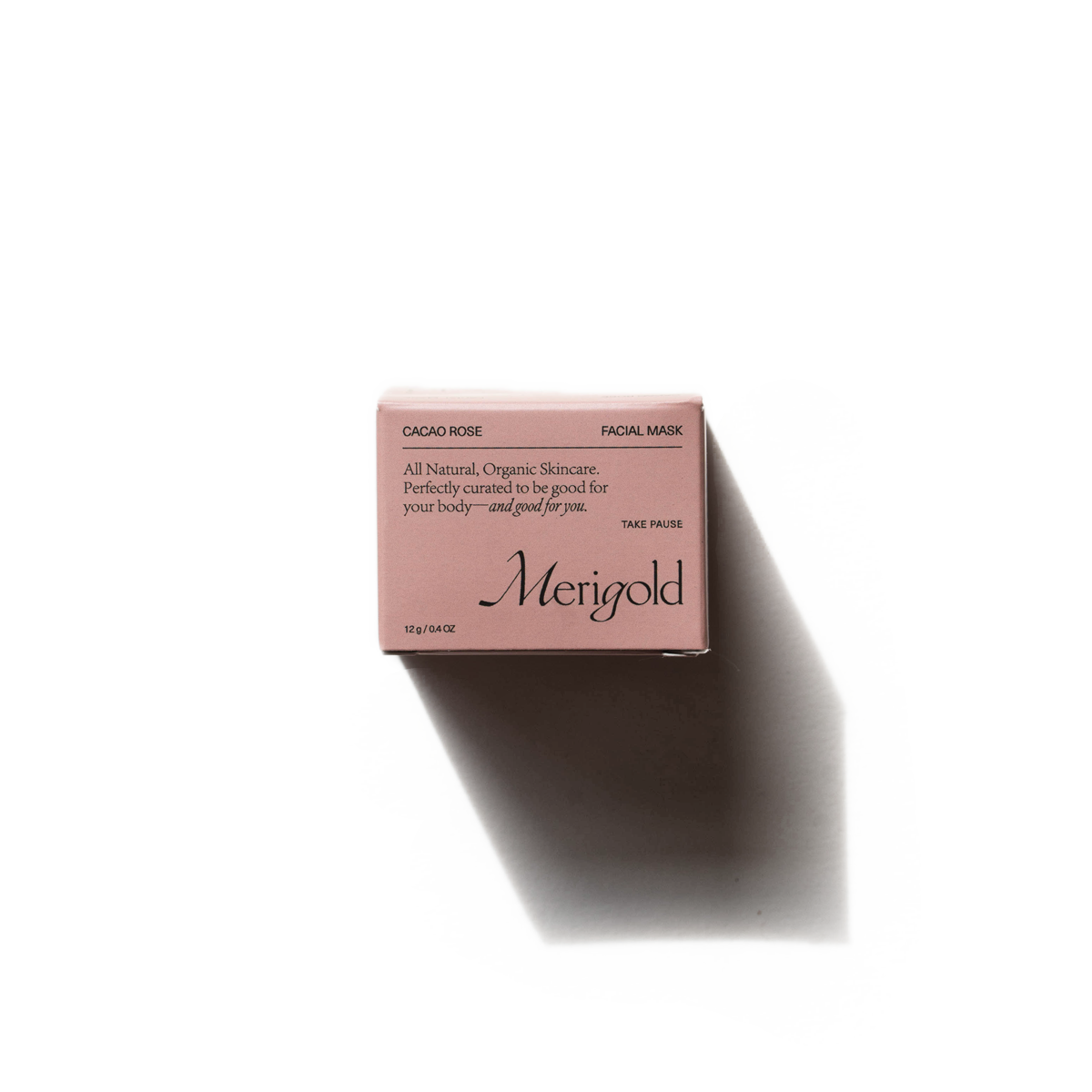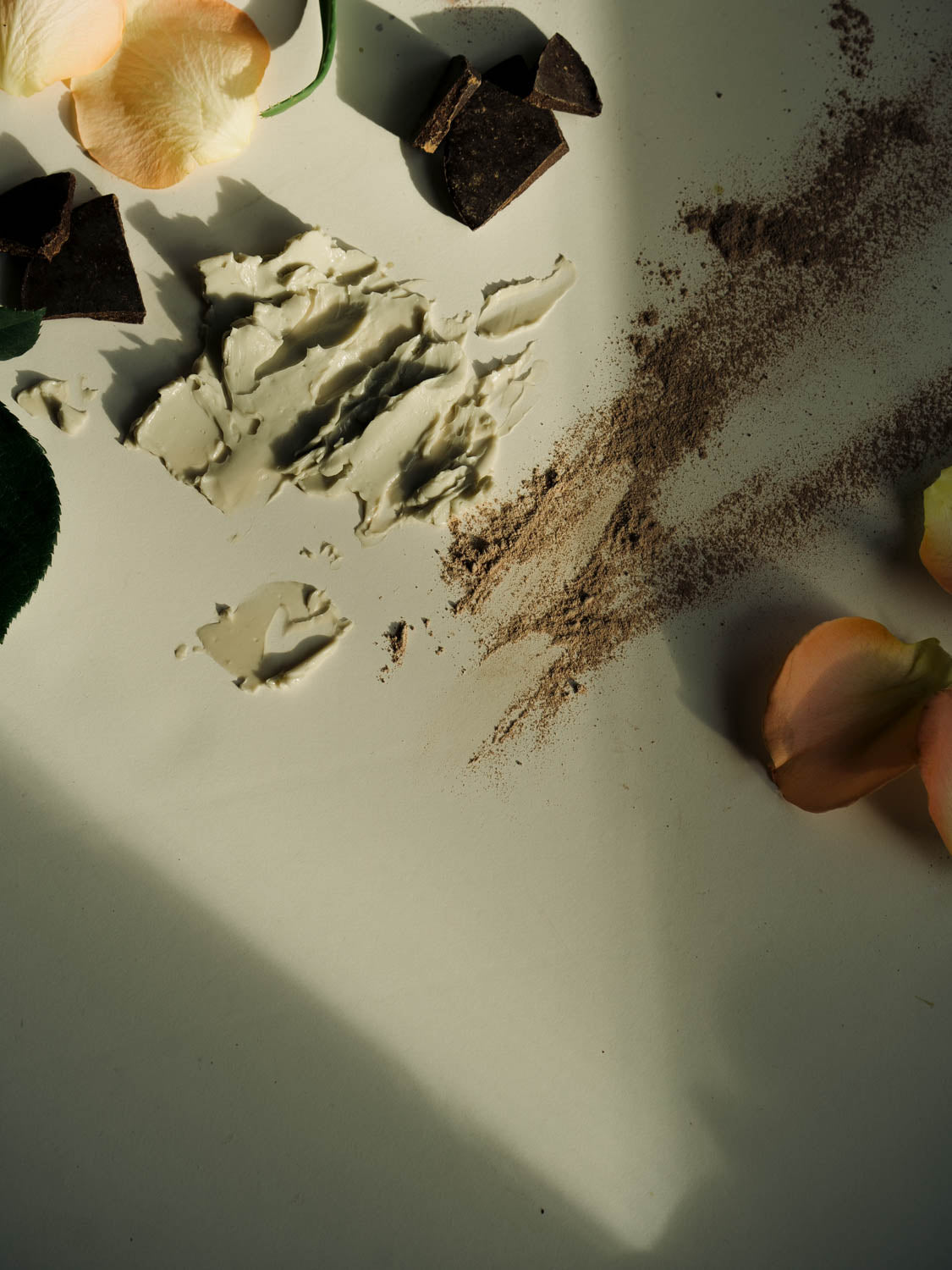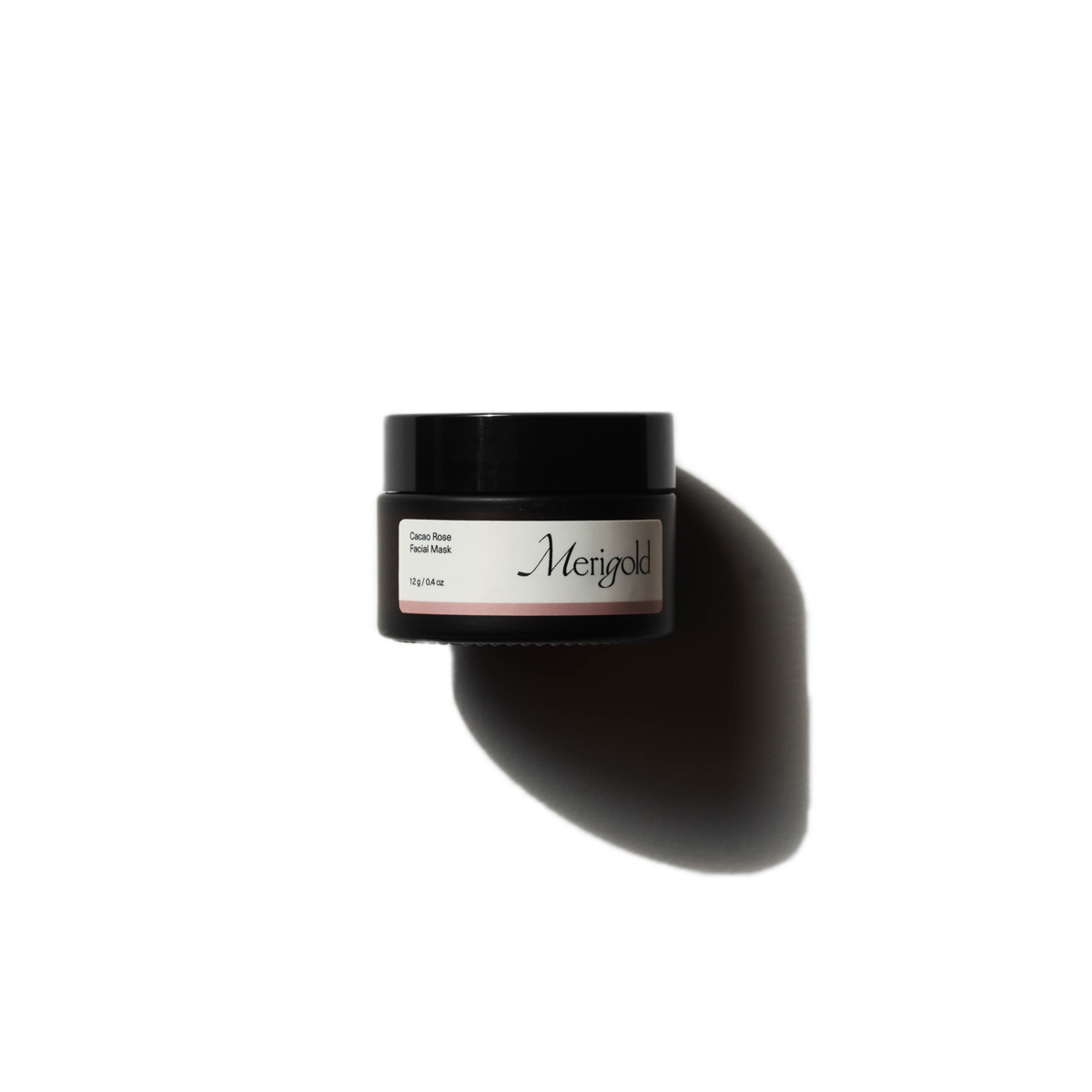 All Natural and Organic Ingredients
Contains 3-5 Masks Per Jar
Description
How to Use
Ingredients
Looking for a delicious way to treat your skin? Try The Cacao Rose Face Mask! This sumptuous mask contains real cacao and rose, which are packed with antioxidants, regenerative properties, and a host of other benefits. Your skin will love the hydration and soothing relief it gets from this mask. Plus, it's the perfect excuse to take a few moments for yourself and enjoy a little pampering. Go ahead and indulge! Your skin will thank you. 

Mix 1 tsp mask powder with 1 tsp of water for a yogurt-like consistency. Apply a thin, even layer to face and wear for 10-15 minutes, this is your time to pause—meditate, read, relax, or simply be still. There is no need to do or accomplish anything at this time. Rinse using lukewarm-cool water. After, apply your favorite facial oil and/or moisturizer. Apply weekly for radiant skin.
Cacao (Theobroma cacao) *
Rose (Rosa centifolia) *
Rice (Oryza sativa) *
Marshmallow (Althaea officinalis) *
Rose Kaolin **
Oat (Avena sativa) *
Grape Seed (Vitis vinifera) *
Aloe Vera (Aloe barbadensis leaf juice) *
Hyaluronic Acid (Sodium hyaluronate) *

* Certified Organic
** Naturally occurring
Pairs Great With:
Nourishment
Cacao
This super seed contains more antioxidants than blueberries, in addition to iron, calcium, and magnesium. It's been used by indigenous peoples for medicinal and mood-enhancing purposes for thousands of years. Cacao helps to protect the skin against environmental damage, while also promoting cell regeneration for a youthful appearance and softening benefits.
Rose
The healing hydration power of rose petals is found to have a soothing, calming, and toning effect, and is gentle enough for sensitive skin. Due to its astringent properties, you will also feel the toning benefits after using this mask.
Aloe Vera
This medicinal herb has cooling and anti-inflammatory properties and can leave the skin feeling hydrated and rejuvenated. With its abundance of vitamins C and E and beta-carotene, it's known to diminish the effects of aging giving you a radiant complexion that feels wonderful to the touch.
Learn More
Organic vs. Natural
What's the difference between Natural and Organic skincare? You may have heard them both referred to as such, but these terms actually mean very different things. Learn More!
Patch Test
Since everyone's skin is unique, it is recommended to try any new products using the patch test method prior to applying them on larger areas of your face. While we do formulate and source all ingredients naturally and toxin free, we still encourage you to apply a thin layer evenly to your forearm.

Everyone's skin reacts differently and this simple patch test can help detect any underlying allergies or reactions. We use whole ingredients and are transparent in letting you know what you are applying to your skin, but if you have a reaction, you should discontinue use for your own comfort.
Wellbeing
This product has not been evaluated by the FDA. Merigold products are not intended to treat, diagnose, cure, or prevent any disease. If you're pregnant, breastfeeding, or on any medications, please consult with a qualified health professional before using. It is recommended to perform an allergy patch test prior to using any products to mitigate any type of skin reaction. Discontinue if a reaction occurs.
Experience
Hydration
Leave your skin feeling soft, hydrated, and looking healthier than ever before. With regular use, you'll not only feel more confident in your skin but also provide a boost to help you age gracefully.
Encounter
Refreshment
The refreshing and moisturizing properties of this mask are designed to help improve the look and feel of your skin.